Limited to 498 pieces
P51 Eleanor
The P51 Eleanor is a limited edition timepiece made from a 1968 Ford Mustang Fastback 'Eleanor'.
Limited to 498 pieces
P51 Eleanor
The P51 Eleanor is a limited edition timepiece made from a 1968 Ford Mustang Fastback 'Eleanor'.
Description
Danish Design.
Limited to 498 pieces.
The P51 Eleanor is a limited edition timepiece made from a 1968 Ford Mustang Fastback 'Eleanor'.
The original "Eleanor" was a highly customized 1971 Ford Mustang Sportsroof – redressed as a '73 model – first seen in the 1974 version of "Gone in 60 Seconds".
However, many will recognize the name from Jerry Bruckheimer's 2000 remake of the same movie in which the Eleanor was a Dupont Pepper Gray 1967 Ford Mustang Fastback cast as a Shelby GT500 and created by legendary coachbuilder Chip Foose.
Since then, the Eleanor style has become a highly popular custom choice for Mustang owners around the world. The vehicle parts used in this collection are taken from a customized car – originally a '68 Fastback immaculately rebuilt as an Eleanor by the Thienpont brothers at Mustang & Co. in Saintes, Belgium.
Finding its inspiration in the curves, rims, racing stripes, chrome elements and unique counters of the '68 Mustang Eleanor, this timepiece seeks to capture the elegant, racy and masculine styling of the Eleanor.
Specifications
Diameter 44,0 mm
Height 10,8 mm
Dial Opening Ø: 38,0 mm
Weight: 125g
Caliber 9130 Miyota movement w. rotor decoration
Type Mechanical lever movement, self-winding
Frequency 28,800 VPH (4.0 hz)
Power reserve approx. 48 hours
Jewels 26
3 Hands / Date / Power Reserve indicator

Skeleton and orange printed hands

3 ATM, 30 meters

3-year full warranty
316L Stainless steel

4-Piece case with black PVD and gunmetal coating 

Top glass Sapphire Crystal with anti-reflective coating

Exhibition caseback with Mineral Crystal
Handcrafted metal dial recycled from a 1968 Ford Mustang Eleanor.
Double black calf leather strap w. black Coated buckle with quick-release system
Strap Width 24,0 mm
Built in Belgium
The showstopper
The Eleanor parts used for the P51 Eleanor timepieces were provided to us by Mr. Anthony Thienpont who, together with his family, owns and operates Mustang & Co. – Europe's largest importer and dealer of classic Ford Mustangs.
For this family of classic car enthusiasts and mechanics, the Mustang is a big part of their lifeblood.
Every year, Mustang & Co. hosts an expo of classic cars, attracting owners and enthusiasts from all over Europe. For one of these shows they produced a flyer featuring an image of an Eleanor.
There was just one problem: they had no Eleanor, which meant they had to create one especially for the show.
The result was an immaculately built '68 Fastback Eleanor, now a crown jewel in the family's impressive collection of classic cars and a regular fixture at their annual classic car expo.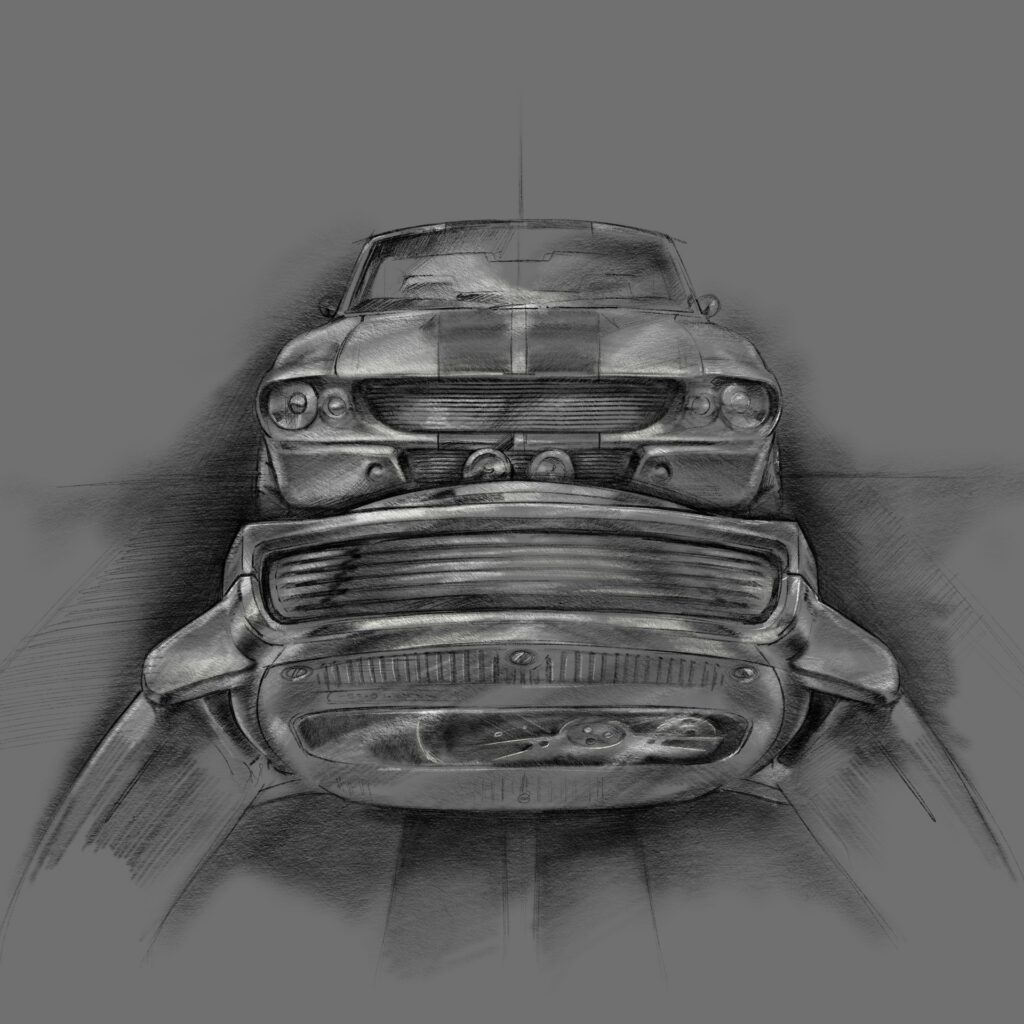 Materials recycled
From Road to Wrist
As part of its Eleanor "transformation", the '68 Fastback trunk lid was dismantled, and subsenquently sent to us.
After the paint and primer was removed, we proceeded to punch 498 watch dials, all of which were then coated with a clear lacquer to make sure the original patina of this 51-year-old vehicle remains intact and visible.
Sporty elegance
Unmistakably Eleanor
With the soul of the Eleanor captured in the recycled dial, the challenge was to create a watch design to match its DNA.
Borrowing inspiration from the curves, rims, racing stripes, front grille, chrome elements and unique counters all of which are so unmistakably Eleanor, the resulting timepieces are both elegant, racy and masculine model with an inherent individuality.
You can purchase this item in payment installments with Splitit - with no extra hidden costs. The installments will be spread over your chosen number of months and debited to your credit card.
Splitit installment payments at 0 % interest: How does it work exactly?

Splitit allows you to split the total payment over a maximum of twelve months using your credit card. This service is free, involves no credit checks or applications, and means you can choose to split your payment into monthly installments.

To use this payment method all you need a credit card with a sufficient amount of available credit. Splitit authorizes the total order value—but don't worry, this is not taken in full when you complete the purchase. At the time of shipping, only the first installment will be charged to your credit card. The remaining balance will be held on your credit card until the final payment has been made. However, a payment authorization for the outstanding amount of your purchase will be held during the full payment period.

After each monthly payment, the amount held from your available balance will be reduced to the new remaining balance (the held amount might appear as "pending"). To ensure that the authorization of your credit card is valid for the entire payment period, the authorization will be renewed every 21 days.
Are there any extra fees involved?

No, this is an interest-free payment method with no additional fixed fees, service fees, interest, or hidden fees of any kind.
Which credit cards does Splitit support?

You can pay using Splitit with a Mastercard or Visa card. Debit cards, American Express and pre-paid cards are not accepted.
Do I have to maintain the required available credit amount on my credit card?

Yes, you must maintain a sufficient amount on your credit card for both the monthly payment and for the full outstanding amount of your purchase during the full period of the plan. The authorized amount will be charged only in the event that a monthly payment is declined (the authorization hold might appear as "pending" on your credit card bill).
What happens if I return the product?

If you decide to not keep the ordered item(s), upon return of the items we will reimburse the installments that have already been paid and cancel the outstanding payments.
When and where can I choose the number of installments for my payment plan?

Installment payments with Splitit can be chosen as a payment option during the checkout process. Here, you can choose the number of installments in your payment plan and view the monthly payment amounts.