Limited to 318 pieces
P51 Little Red
The P51 Little Red is a limited edition timepiece made from Carroll Shelby's 1967 EXP500 prototype, aka 'Little Red'.
Limited to 318 pieces
P51 Little Red
The P51 Little Red is a limited edition timepiece made from Carroll Shelby's 1967 EXP500 prototype, aka 'Little Red'.
Description
Danish Design.
Swiss Made.
Limited to 318 pieces.
The P51 Little Red is a limited edition timepiece made from Carroll Shelby's 1967 EXP500 prototype, aka 'Little Red'.
This unique big-block Shelby notchback coupe was pivotal in the evolution of the Ford Mustang and American muscle cars in general.
Under the direction of Lee Iacocca, the car eventually became the model for Ford's popular 1968 California Special Mustang, before being moved to storage and presumed lost or destroyed.
For years, Little Red was considered the holy grail of lost collector cars until, following intensive research led by Craig Jackson, the vehicle was ultimately tracked down and restored to its former glory.
Excess parts from Little Red's immaculate restoration have been repurposed to feature as the dial of the P51 Little Red timepieces.
The P51 Little Red cuts an eye-catching profile on the wrist thanks to its red-and-black color scheme, while the double calf leather strap combined with a sleek 42 mm cushion case guarantees a supremely comfortable fit.
Specifications
Diameter 42,0 mm
Height 13,3 mm
Lug-to-Lug 48,5 mm
Dial Opening Ø: 37,0 mm
Weight: 122g
Caliber STP-12-13 movement

Type Mechanical, self-winding

Frequency 28,800 VPH (4.0 hz)

Power reserve 42 hours

Jewels 36
Swiss-made

3 Hands w. small second at 9 o'clock / Power reserve indicator 

Skeletonized sub-dial

5 ATM, 50 meters

3 year full warranty
316L Stainless steel

4-Piece case with black PVD coating and stamped sides

Top glass Sapphire Crystal with 3 layers of anti-reflective coating

Closed caseback with laser-engraving and deep etching
Handcrafted metal dial cut directly from 'Little Red', 1967 Ford Mustang Shelby GT500 EXP
Black calf leather strap with quick-release system
Width (Lugs) 22,0 mm
Width (Buckle) 20,0 mm
Length 125,0/85,0 mm
Recovered
Carroll Shelby's experimental vehicle
Little Red was a unique experimental notchback prototype conceived to test the option for inclusion of a coupe in Shelby's '67/'68 product line. A typical Shelby melting pot of innovative engineering and styling ideas, the vehicle married hot-rod features with Ford's legendary technical prowess.
Decades later, Little Red is widely regarded as a landmark in American automotive history and an experimental car pushed to the extreme limits of its time.
Seen in the context of Shelby's love for experimentation, by no means an outlier – the Ford/Shelby GT40, designed to compete at Le Mans, was one of Little Red's illustrious contemporaries.
The name "Little Red" reflected its coupe-size and bright red color, with many interpreting it as a less-than-subtle jab at historic Le Mans rival Ferrari.
Car & Driver journalist Charles Fox related the story of driving Little Red on California's Highway 60 back in 1968. Approaching speeds of 140 mph on the way back to his hotel, he found himself being chased by a fleet of overheating county police cars. As soon as they'd managed to catch and arrest him, they asked him to pop the hood in an attempt to make sense of what they had just witnessed!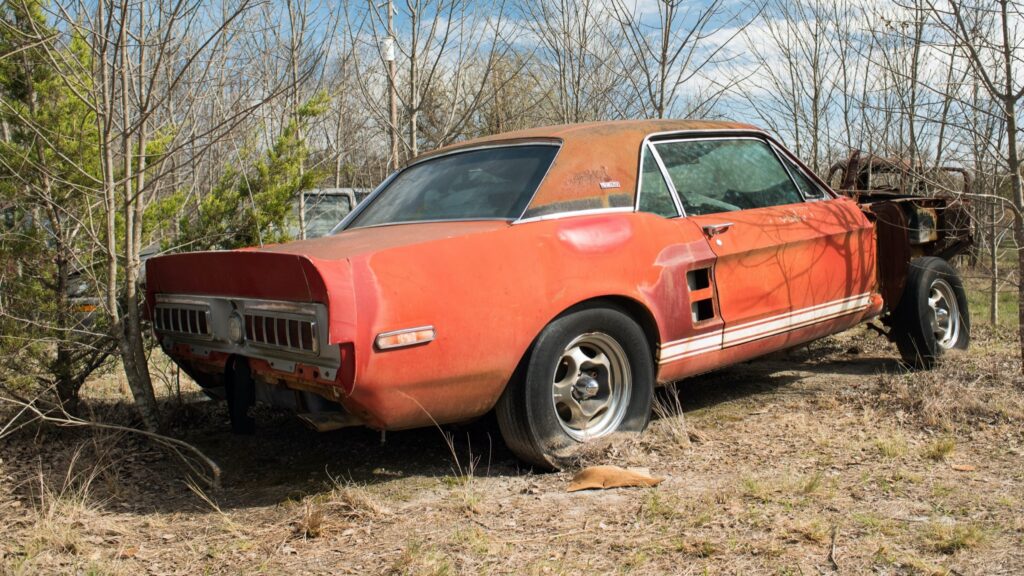 Recycled
Lost and Found in Texas Tornado Valley
Little Red represents a golden age of innovation in American car manufacturing and a jewel of Mustang history courtesy of a dedicated Shelby team. For half a century, the assumption was that Little Red had been crushed – the usual fate for prototype vehicles.
But for car enthusiast and CEO of Barrett-Jackson Auction Company, Craig Jackson, the hunt for Little Red had become nothing short of a personal quest.
He put together a dedicated team to find Little Red and, on March 3rd 2018, his persistence paid off when Little Red was discovered in "Tornado Alley" in rural North Texas.
Jackson took it upon himself to restore the vehicle to its original condition, a major undertaking that would take almost two years and involve numerous specialists and mechanics.
As part of the process, some of the vehicle's exterior parts had to be replaced or upgraded, freeing up original components for use in the dials of the P51 Little Red timepieces.
Reclaimed
A piece of American automotive history
Distilling the history and design of one of the most iconic Mustangs ever built into a stylish timepiece was spectacularly challenging.
The idea was to create a captivating next-generation P51 watch full of subtle references that would really jump out at any true Mustang enthusiast.
Right from the initial sketch, we started building in multiple design references to Little Red. Using sheet metal salvaged from the car's bodywork, we carefully incorporated some of Little Red's most striking characteristics into the design.
The hubcaps are mirrored in the crown, the seat stitching is transposed to the strap and even the front and tail lights have found their place – subtly laser-engraved on the side of the watch case.
You can purchase this item in payment installments with Splitit - with no extra hidden costs. The installments will be spread over your chosen number of months and debited to your credit card.
Splitit installment payments at 0 % interest: How does it work exactly?

Splitit allows you to split the total payment over a maximum of twelve months using your credit card. This service is free, involves no credit checks or applications, and means you can choose to split your payment into monthly installments.

To use this payment method all you need a credit card with a sufficient amount of available credit. Splitit authorizes the total order value—but don't worry, this is not taken in full when you complete the purchase. At the time of shipping, only the first installment will be charged to your credit card. The remaining balance will be held on your credit card until the final payment has been made. However, a payment authorization for the outstanding amount of your purchase will be held during the full payment period.

After each monthly payment, the amount held from your available balance will be reduced to the new remaining balance (the held amount might appear as "pending"). To ensure that the authorization of your credit card is valid for the entire payment period, the authorization will be renewed every 21 days.
Are there any extra fees involved?

No, this is an interest-free payment method with no additional fixed fees, service fees, interest, or hidden fees of any kind.
Which credit cards does Splitit support?

You can pay using Splitit with a Mastercard or Visa card. Debit cards, American Express and pre-paid cards are not accepted.
Do I have to maintain the required available credit amount on my credit card?

Yes, you must maintain a sufficient amount on your credit card for both the monthly payment and for the full outstanding amount of your purchase during the full period of the plan. The authorized amount will be charged only in the event that a monthly payment is declined (the authorization hold might appear as "pending" on your credit card bill).
What happens if I return the product?

If you decide to not keep the ordered item(s), upon return of the items we will reimburse the installments that have already been paid and cancel the outstanding payments.
When and where can I choose the number of installments for my payment plan?

Installment payments with Splitit can be chosen as a payment option during the checkout process. Here, you can choose the number of installments in your payment plan and view the monthly payment amounts.