Limited to 350 pieces
P51 RTR
The P51 RTR is a limited edition timepiece made in collaboration with Formula Drift Champion, Vaughn Gittin Jr.
Limited to 350 pieces
P51 RTR
The P51 RTR is a limited edition timepiece made in collaboration with Formula Drift Champion, Vaughn Gittin Jr.
Description
Danish Design.
Limited to 350 pieces.
The P51 RTR is a limited edition timepiece made in collaboration with Formula Drift Champion, Vaughn Gittin Jr.
Best known for his aggressive driving style, Gittin Jr. won his first Formula DRIFT title in 2010 and was named Ace Driver of the Decade in 2013 in recognition of an impressive competition record that saw him take more tandem battle victories than any other driver in 10 years of Formula DRIFT history.
The P51 RTR captures the spirit of the very Mustang RTR in which Gittin Jr. won his titles, by combining recycled carbon fiber and aluminum from the car itself with the RTR's characteristic styling.
The raw recycled carbon dial, dressed in a bright neon color scheme, still bears the nicks and marks sustained by the vehicle under extreme drifting conditions. Atop the dial sits a unique bezel made from recycled crushed carbon forged with aluminum from the car's wishbone suspension.
The P51 RTR is the ultimate tribute to a true icon of the modern drifting scene and the exceptional vehicle that made his name.
Specifications
Diameter 44,0 mm
Height 10,8 mm
Opening diameter 38,0 mm
Weight 128g
Caliber 9130 Miyota movement w. rotor decoration

Type Mechanical, self-winding
Frequency 28,800 VPH (4.0 hz)
Power reserve +48 hours
Jewels 26
3 Hands / Date / Power Reserve indicator

Green and orange printed hands

Forged carbon bezel mixed with aluminum – recycled from Vaughn Gittin Jr.'s 900hp RTR Ford Mustang.

Black inner dials

3 ATM, 30 meters

3-year full warranty
316L Stainless steel

4 -Piece case with Black PVD and gunmetal coating 

Top glass Sapphire Crystal with anti-reflective coating

Exhibiton caseback glass Mineral Crystal
Handcrafted carbon dial recycled from Vaughn Gittin Jr.'s 900hp RTR Ford Mustang.
Double black calf leather strap with green stitchings and quick-release system
Brushed & polished stainless steel black PVD coated buckle with laser engraved logo
Strap Width 24,0 mm
Recovered
DRIFT MONSTER
The origins of drifting as a motorsport date back to the 1970s in Japan, but it wasn't until the 1990s that the technique started to gain a more international following.
Not surprisingly, Japanese drivers and manufacturers dominated the scene when Vaughn Gittin Jr., a self-taught drifter from Maryland, entered the sport professionally in 2004.
Not only was it unusual to see a towering American competing at the highest levels of drift racing, but his choice of car – a Ford Mustang – was even more left field. As it turned out, the Mustang would carry him to victory in a series of championships including the Formula DRIFT Championship in both 2010 and 2020. Today, Vaughn is known as one of the most iconic figures in the sport and is often referred to as the "professional funhaver".
The championship winning car from which the P51 RTR is made is officially named the Monster Energy Nitto Tire Ford Racing Mustang RTR. And while it might look like a Mustang from the outside, the car has been fully customized to compete at the highest levels of drifting.
From its carbon exterior to its 900 bhp output, this vehicle is born and bred from traditional Japanese drift culture and shaped by 60 years of Ford Mustang history, making it a true Drift Monster.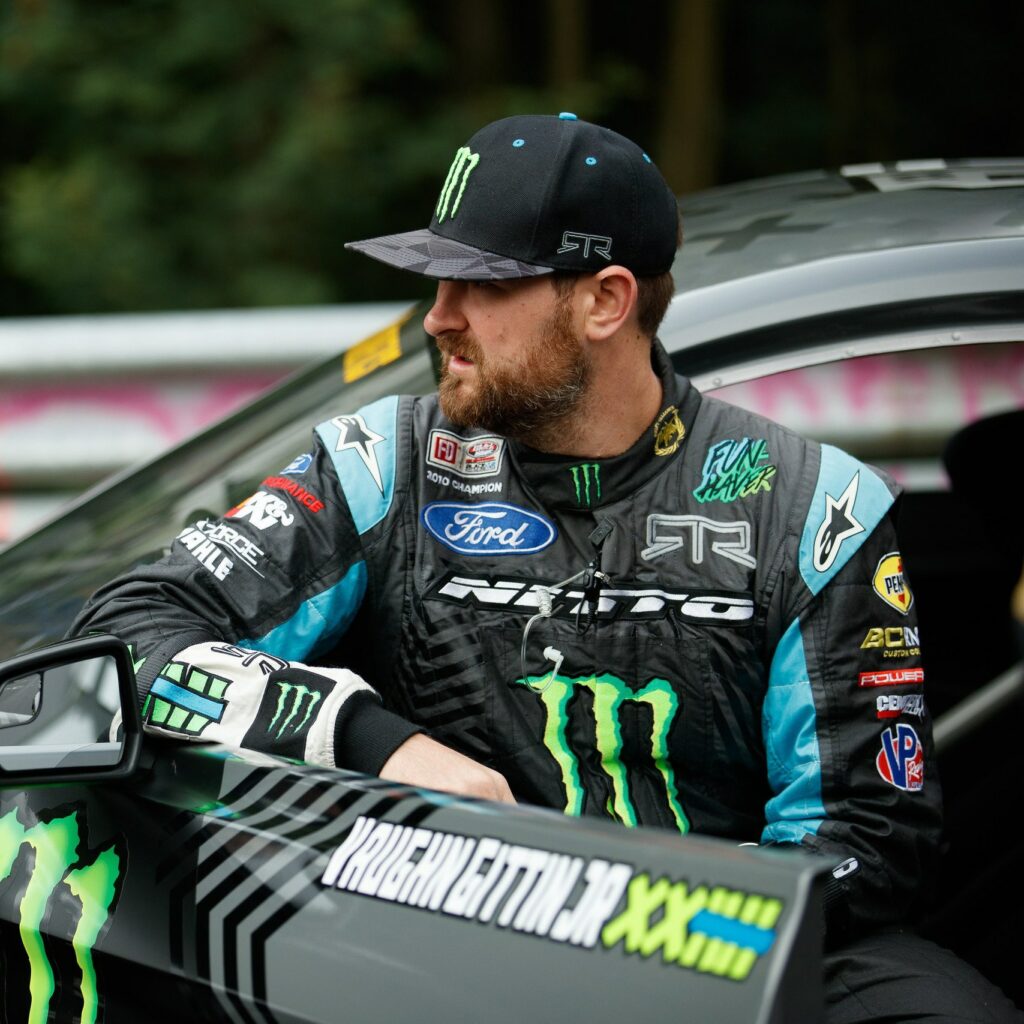 Recycled
Forged carbon & gravel scars
The Mustang RTR has seen its fair share of gravel, and the extreme conditions of drifting mean that the car's exterior parts inevitably need replacing.
As a result, Gittin Jr. and the RTR team mechanics were able to provide us with various carbon and aluminum components from the Championship car itself. Our job was to make the most of them.
Carbon fiber proved to be an extremely difficult material to recycle into watch dials. Its stiffness and material composition meant that we were not able to bend or rework the raw material as we normally would.
For this reason, of the many carbon parts we received only a small fraction proved suitable for the dials. Minor marks and dents caused by the flying gravel encountered during drifting are a signature of these raw carbon dials.
In the end, we opted to crush the surplus carbon fiber parts and combine them with the supplied aluminum components to be reforged into the unique bezels that crown the P51 RTR.
Reclaimed
Available to all – not for everyone
The P51 RTR is without question one of our most daring timepieces to date.
Working directly with Vaughn Gittin Jr. and his RTR team, we set out to create the ultimate tribute to a drift world champion and his 900 bhp companion.
Decorated with green and dark orange printed hands, the raw carbon dial is framed by a bezel forged from carbon and aluminum salvaged directly from the car's suspension.
The understated gunmetal gray/PVD-coated case and carbon black dial are in stark contrast to the vibrant green and orange tones found on the dial and the strap stitching.
The left side of the case mirrors the front grille of Gittin Jr.'s Mustang RTR, right down to the laser-engraved triangular LED accent vent lights. These iconic lights were first unveiled at the 2015 SEMA show during the official launch of Gittin Jr.'s 2015 Mustang RTR.
The P51 RTR's rotor is decorated in tribute to the iconic Tech 7 mesh spoke 3-piece race wheel, while the number 25 appears in Roman numerals on each side of the strap – a reference to the RTR race car's own number.
You can purchase this item in payment installments with Splitit - with no extra hidden costs. The installments will be spread over your chosen number of months and debited to your credit card.
Splitit installment payments at 0 % interest: How does it work exactly?

Splitit allows you to split the total payment over a maximum of twelve months using your credit card. This service is free, involves no credit checks or applications, and means you can choose to split your payment into monthly installments.

To use this payment method all you need a credit card with a sufficient amount of available credit. Splitit authorizes the total order value—but don't worry, this is not taken in full when you complete the purchase. At the time of shipping, only the first installment will be charged to your credit card. The remaining balance will be held on your credit card until the final payment has been made. However, a payment authorization for the outstanding amount of your purchase will be held during the full payment period.

After each monthly payment, the amount held from your available balance will be reduced to the new remaining balance (the held amount might appear as "pending"). To ensure that the authorization of your credit card is valid for the entire payment period, the authorization will be renewed every 21 days.
Are there any extra fees involved?

No, this is an interest-free payment method with no additional fixed fees, service fees, interest, or hidden fees of any kind.
Which credit cards does Splitit support?

You can pay using Splitit with a Mastercard or Visa card. Debit cards, American Express and pre-paid cards are not accepted.
Do I have to maintain the required available credit amount on my credit card?

Yes, you must maintain a sufficient amount on your credit card for both the monthly payment and for the full outstanding amount of your purchase during the full period of the plan. The authorized amount will be charged only in the event that a monthly payment is declined (the authorization hold might appear as "pending" on your credit card bill).
What happens if I return the product?

If you decide to not keep the ordered item(s), upon return of the items we will reimburse the installments that have already been paid and cancel the outstanding payments.
When and where can I choose the number of installments for my payment plan?

Installment payments with Splitit can be chosen as a payment option during the checkout process. Here, you can choose the number of installments in your payment plan and view the monthly payment amounts.