SPX DeLorean
Limited to 456 pieces
The SPX DeLorean is a limited edition timepiece made from John Z. DeLorean's personal DMC-12 company car.
Launching for pre-orders Dec 1st, 2022
Customer deliveries expected from March 2023
Need further help with this item? Contact us
Limited to 456 pieces

– 304 left in stock
Limited to 456 pieces
– 304 left in stock
SPX DeLorean
The SPX DeLorean is a limited edition timepiece made from John Z. DeLorean's personal DMC-12 company car.
Read more
Launching for pre-orders Dec 1st, 2022
Customer deliveries expected from March 2023
Need further help with this item? Contact us
Are you telling me that you built a time machine… out of a DeLorean?!
Coming Soon: Sign up to receive 15% Early Bird code
The SPX DeLorean is a limited edition timepiece made from John Z. DeLorean's personal DMC-12 company car.
Gullwing doors, unique windows, stainless steel panels and hard edges – the distinctive characteristics of an automotive icon that stole the spotlight – The DeLorean DMC-12.
A 'time machine' to the '80s, this exclusive vehicle was manufactured by the DeLorean Motor Company (DMC) in Northern Ireland, but less than 9,000 cars were made before the company filed for bankruptcy.
The DMC-12 is the canvas to a blockbuster tale that encompassed stunning design, big-screen features, a tragic downfall and a lasting fanbase – a folklore that reached car afficionados universally.
As a car that took you 'Back to the Future,' we captured its timeless design, unique aesthetic and the controversial automotive narrative that surrounded it and packaged it into our limited-edition SPX DeLorean.
Limited to 456 pieces and encased within a steel framework, the SPX is a spotlight watch for a spotlight car, with subtle design references weaving throughout the timepiece to evoke the iconic feel of the DeLorean.
> Launching for pre-order Dec 1st 2022, delivery from Mar 2023
> Limited to 456 pieces, each individually numbered.
> Danish Design. Swiss Made.
Specs
Diameter 39,0 mm
Lug-to-lug 47,5 mm
Height 11,2 mm
Opening diameter 30,0 mm
Swiss made skeletonized SELLITA caliber: SW200-1 S c

Time only (Hours, Minutes & Seconds)




– Stop second device




– Self-Winding mechanism

Automatic & manual winding

26 Jewels

41 Hours power reserve

28,800 bph. 4Hz

Accuracy +- 15 sec per day
Recycled outer dial ring made from DMC-12 VIN SCEDT26TIBD006882
Exhibition caseback
Skeletonized dial
Integrated strap
Water resistance 5ATM / 50M
Width (lug):

27,5mm

Width (Folding Clasp):

20,0 mm

Length:

125 / 75 mm
Top glass:

Sapphire crystal w. 3 layers of AR

Coating

Caseback glass:

Mineral Glass

Case,Caseback & Crown:

316L Stainless steel

Strap:

FKM Rubber

Folding Clasp:

316L Stainless Steel
DELOREAN and related marks, vehicles, trade dress, emblems, logos and designs are intellectual property of DMC and are used with permission by REC Watches ApS. 2022 DMC. All rights reserved.


Esler archive DeLorean images are property of Alexx Michael / DeLoreanbook.org and are used with permission by REC Watches ApS.
Recovered
The DeLorean Dream
Imagined by engineering and marketing genius John Z. DeLorean, the DMC-12 took six years to go from a clean-sheet concept to production and retail sales. Bringing together some of the brightest automotive minds, this venture was a reflection of innovative ideas, creative design, and sadly, self-assured hubris.
Coined the 'Elon Musk of the 80s', John DeLorean was an eccentric figure in a sea of bland corporatism – a man with charisma and wit that propelled the marketing successes of his past and, it was hoped, of the DMC-12.
The DMC-12 was manufactured in a purpose-built factory in Belfast, a city where political strife, sectarian violence, and unemployment were the norm, to garner the support of the UK government and generate funding.
Once the factory site was chosen, there was only 26 months to productionize the concept whilst building and outfitting the factory. The first DeLorean rolled off the line in January 1981.
The preceding years of media exposure and a dealer network of more than 340 locations in the USA led to no shortage of initial demand. But the recession of the early 1980s made the $25,000 DeLorean a hard sell in a time where car loans carried interest rates upwards of 18%. Betting that the economy would turn, John DeLorean doubled production to meet his expected surge in demand. Bad timing meant that this was not to be, and as car sales dropped precipitously, the factory was forced into receivership.
With no further backing from the then Thatcher-led Conservative government and accusations against John Z. DeLorean for financing a cocaine deal in a desperate attempt to secure funding, the DeLorean dream was over in late 1982.
Though DeLorean himself was found not guilty at trial in 1984 as a result of FBI entrapment, the factory was shuttered and the company dissolved. In 1985, the car's starring role in the acclaimed comedic sci-fi film, 'Back to the Future', helped to immortalize the vehicle and make it an instantly recognizable sight on the open road.
Over the years, the entire story of the DeLorean is the reason that the DeLorean DMC-12 remains one of the best known and well-revered automobiles of the late 20th century.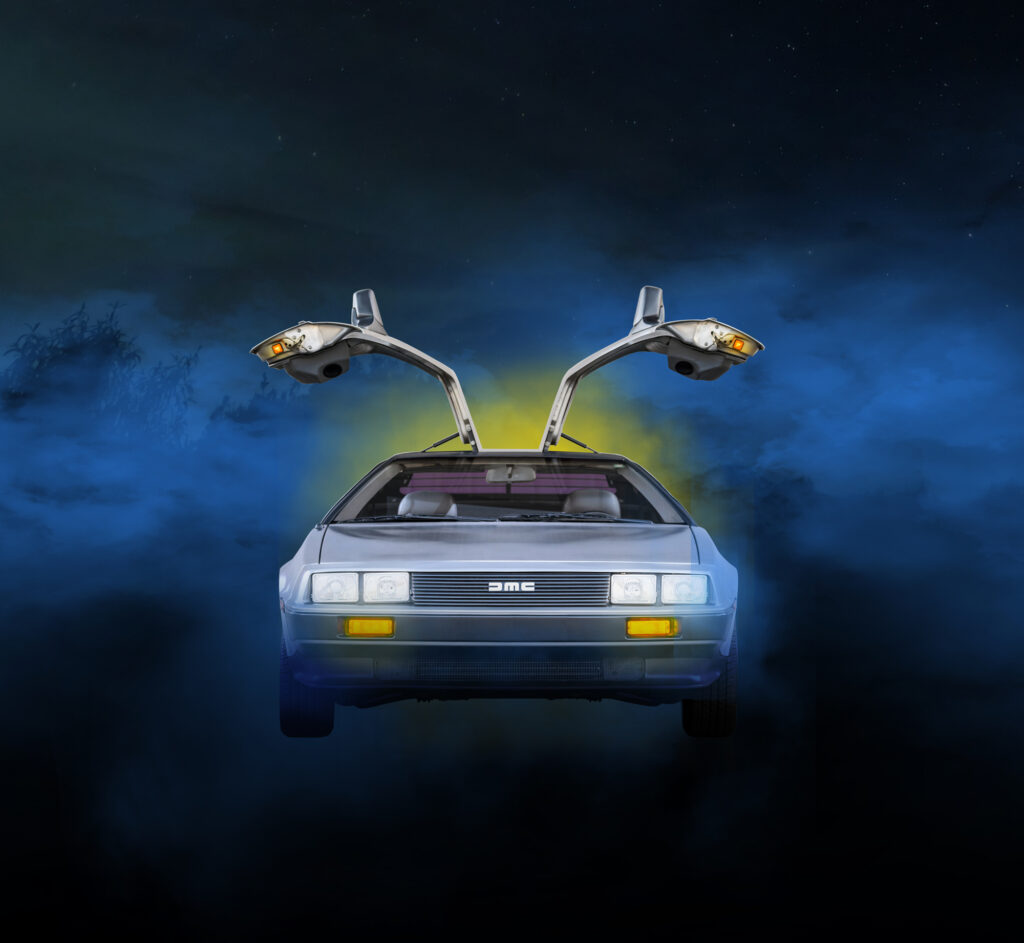 Recycled
A moment in automotive history with a lasting legacy
On the sidelines, in the shadow of one of the most divisive and controversial stories of automotive history, the 8,975 DMC-12s built were left wanting for parts and service when the original DeLorean Motor Company closed its doors.
Stephen Wynne, who operated an independent auto service facility at the time, identified the Renault drivetrain and other components commonly found on the other cars that he regularly serviced. With a demand for servicing and as others in the industry ran away from the DeLorean car and brand, Wynne embraced it and devoted himself and his company to the car.
Wynne's new company in Texas acquired the remaining inventory of parts, along with engineering documents and drawings from the liquidator in Columbus, Ohio that acquired them shortly after the factory's closure in early 1983.
Wynne's DMC, dedicated to the DMC-12, has stewardship of the more than 3.5 million new original stock (NOS), replacement and reproduction DeLorean parts and accessories in their 40,000 sq ft. (3,700m2) headquarters.
Now, with over 40 years servicing DeLorean cars, DMC are collaborating with REC Watches to produce a timepiece that fuses the DNA of a DeLorean with the timeless quality of a REC timepiece.
Reclaimed
Are you telling me that you built a time machine… out of a DeLorean?!
Condensing this historical narrative into a timepiece that weaves together its various elements by its inspired design references, the SPX DeLorean communicates the proverbial fabric of DeLorean lore.
An original part of one of John DeLorean's company DeLorean cars has been seamlessly repurposed into the outer ring-piece of the watch face which serves a dual function in design as minute-markers, indicated by its engraved lines.
A bird's eye view of the SPX resembles that of the car silhouette with its signature gullwing doors outstretched.
The straps bear indents that are reminescent of the rear sunshade louver of the DeLorean, and a rubber stripe spans across the sides of the watch, evoking the body side moldings of the car.
The minutes index is also a reference to the Giugiaro-designed turbine wheels of the DMC-12, and the design motif on the caseback is inspired by the distinctive grid-like pattern of the rear tail lights.
Limited to 456 pieces, you're invited to share in the rich story of this iconic vehicle that dominated the big screen and remains one of the most captivating stories into the 21st century. We know that time travel happens at 88 mph. With this timepiece on your wrist, all it takes is a conversation.
You can purchase this item in payment installments with Splitit - with no extra hidden costs. The installments will be spread over your chosen number of months and debited to your credit card.
Splitit installment payments at 0 % interest: How does it work exactly?

Splitit allows you to split the total payment over a maximum of twelve months using your credit card. This service is free, involves no credit checks or applications, and means you can choose to split your payment into monthly installments.

To use this payment method all you need a credit card with a sufficient amount of available credit. Splitit authorizes the total order value—but don't worry, this is not taken in full when you complete the purchase. At the time of shipping, only the first installment will be charged to your credit card. The remaining balance will be held on your credit card until the final payment has been made. However, a payment authorization for the outstanding amount of your purchase will be held during the full payment period.

After each monthly payment, the amount held from your available balance will be reduced to the new remaining balance (the held amount might appear as "pending"). To ensure that the authorization of your credit card is valid for the entire payment period, the authorization will be renewed every 21 days.
Are there any extra fees involved?

No, this is an interest-free payment method with no additional fixed fees, service fees, interest, or hidden fees of any kind.
Which credit cards does Splitit support?

You can pay using Splitit with a Mastercard or Visa card. Debit cards, American Express and pre-paid cards are not accepted.
Do I have to maintain the required available credit amount on my credit card?

Yes, you must maintain a sufficient amount on your credit card for both the monthly payment and for the full outstanding amount of your purchase during the full period of the plan. The authorized amount will be charged only in the event that a monthly payment is declined (the authorization hold might appear as "pending" on your credit card bill).
What happens if I return the product?

If you decide to not keep the ordered item(s), upon return of the items we will reimburse the installments that have already been paid and cancel the outstanding payments.
When and where can I choose the number of installments for my payment plan?

Installment payments with Splitit can be chosen as a payment option during the checkout process. Here, you can choose the number of installments in your payment plan and view the monthly payment amounts.