Limited to 305 pieces
901 RWB Stella
The 901 RWB Stella is a limited edition timepiece made from Akira Nakai's RWB Porsche, 'Stella'.
Limited to 305 pieces
901 RWB Stella
The 901 RWB Stella is a limited edition timepiece made from Akira Nakai's RWB Porsche, 'Stella'.
Description
Danish Design.
Limited to 305 pieces.
The 901 RWB Stella is a limited edition timepiece made from Akira Nakai's RWB Porsche, 'Stella'.
Developed through close collaboration with Akira Nakai and the RWB team, featuring chassis parts from the "Stella Artois" worked into the intricate dial, the 901 RWB Stella timepiece is designed to capture the unmistakable marriage of aggressive beauty and performance that defines RAUH-Welt BEGRIFF.
Named for his beverage of choice, the "Stella" is Nakai-san's own personal vehicle. Twelve years in the making, this '85 Porsche 930 has become one of the most distinctive Porsche 911s anywhere in the world.
From its sophisticated bodywork to its countless laps of racing experience, the Stella is cconsidered the genesis of all RWB vehicles.
Specifications
Diameter 44,0 mm (46,0 mm with body-kit)
Height 14,5 mm
Lug-to-Lug 45,5 mm
Dial Opening Ø: 36,0 mm
Weight: 130g
Caliber 9100 Miyota movement

Type Mechanical, self-winding and hand winding

Frequency 28,800 VPH (4.0 hz)

Power reserve +40 hours

Accuracy -10~+30 sec per day

Jewels 26
3 Hands / Day / Date / Month

Quick Date Set

Super-LumiNova X1 Green on han

ds & indices

5 ATM, 50 meters

3-year full warranty
316L Stainless steel

4-Piece case with black and gold PVD coating 

Top glass Sapphire Crystal with 3 layers of anti-reflective coating

Closed caseback with laser-engraving and deep etching
Handcrafted metal dial cut directly from Akira Nakai-San's two personal RWB Porsche 911's: Stella Artois – a 1985 Porsche (911) 930
Black rubber strap (FKM, Flourcarbon (Viton®), with debossed texture, RWB logos and quick-release system.
Width (Lugs) 24,0 mm
Width (Buckle) 20,0 mm
Length 127,0/75,0 mm
REC Watches and its products are not in any way associated or supported by Porsche AG or any of its affiliates.
Recovered
Conversion as an art form
A renowned artist and underground phenomenon in the car and drifting community, Nakai-san specializes in the installation of custom wide-body kits and extreme fenders on classic Porsche 911s.
Executed almost exclusively by hand, his RWB conversions are as distinctive as they are controversial.
Nakai-san's wild, chaotic approach is the antithesis of the discreet and meticulous way Porsche upgrades its iconic cars.
His conversion projects are complete transformative experiences that give birth to a new and extreme identity, turning the sophisticated Dr. Jekyll into the devilish Mr. Hyde.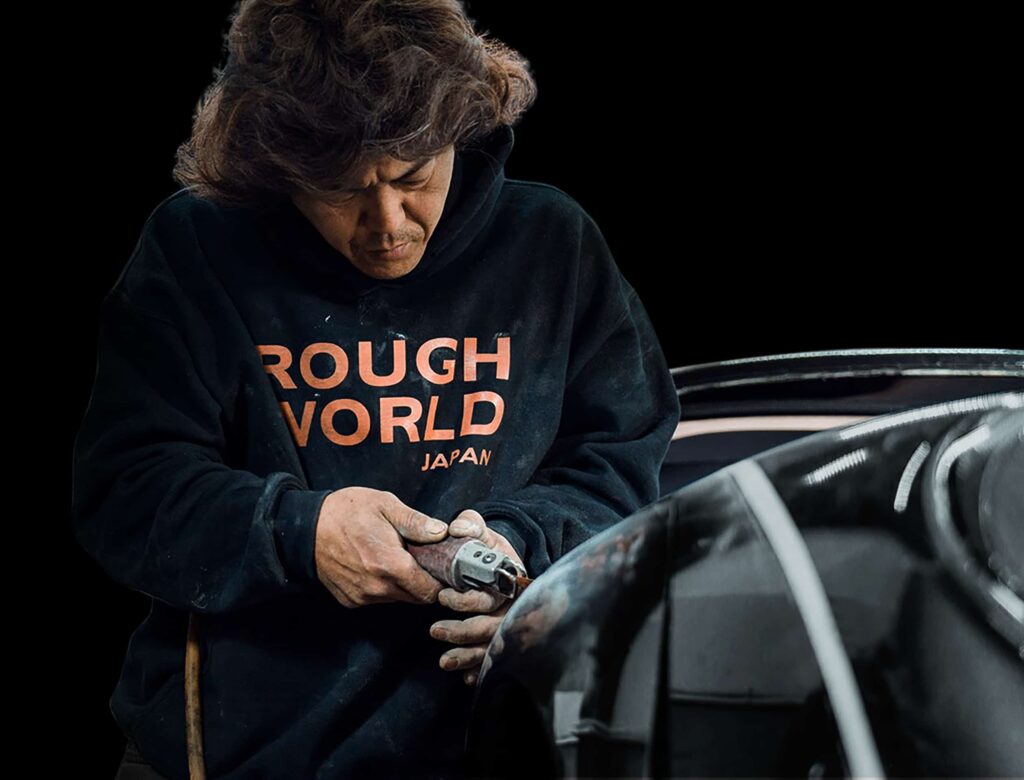 Recycled
Original parts, lovingly preserved
Although Nakai-san makes his living from transforming classic Porsche 911s into something more extreme, his love for the original vehicles is such that he has kept every hood removed from his own cars in his garage in Kashiwa, Japan.
As a result, Nakai-san and his team were able to provide us with original parts left over from the conversion process, which we punched out to form watch dials.
Coated with a transparent lacquer and built directly into the 901-RWB design, these components have finally come to the end of their long and intense transformative journey.
The entire concept behind RAUH-Welt Begriff (RWB) and everything that Nakai-san has sacrificed for his automotive art are distilled into a limited run of just 305 watches.
Reclaimed
Disruptive down to its DNA
The REC x RWB project was a two-year undertaking that reflects the radical departure from the world of Porsche embodied by this vehicle.
Capturing the soul and DNA of the car was no mean feat, and the watch you see today is the result of over 2 years of constant reworking.
The extreme wide-body kit, striking black-and-gold color scheme and racy hubcaps have all found their way into the 44 mm case design.
Inspired by the Stella's sporty spirit, the 901 RWB Stella's sandwich dial features month and day indications, positioned at 3 and 9 o'clock respectively and represented by Japanese characters in a nod to Nakai-san's home country.
The 901 RWB Stella sits on an ultra-flexible FKM Viton black rubber strap for superior wearing comfort.
You can purchase this item in payment installments with Splitit - with no extra hidden costs. The installments will be spread over your chosen number of months and debited to your credit card.
Splitit installment payments at 0 % interest: How does it work exactly?

Splitit allows you to split the total payment over a maximum of twelve months using your credit card. This service is free, involves no credit checks or applications, and means you can choose to split your payment into monthly installments.

To use this payment method all you need a credit card with a sufficient amount of available credit. Splitit authorizes the total order value—but don't worry, this is not taken in full when you complete the purchase. At the time of shipping, only the first installment will be charged to your credit card. The remaining balance will be held on your credit card until the final payment has been made. However, a payment authorization for the outstanding amount of your purchase will be held during the full payment period.

After each monthly payment, the amount held from your available balance will be reduced to the new remaining balance (the held amount might appear as "pending"). To ensure that the authorization of your credit card is valid for the entire payment period, the authorization will be renewed every 21 days.
Are there any extra fees involved?

No, this is an interest-free payment method with no additional fixed fees, service fees, interest, or hidden fees of any kind.
Which credit cards does Splitit support?

You can pay using Splitit with a Mastercard or Visa card. Debit cards, American Express and pre-paid cards are not accepted.
Do I have to maintain the required available credit amount on my credit card?

Yes, you must maintain a sufficient amount on your credit card for both the monthly payment and for the full outstanding amount of your purchase during the full period of the plan. The authorized amount will be charged only in the event that a monthly payment is declined (the authorization hold might appear as "pending" on your credit card bill).
What happens if I return the product?

If you decide to not keep the ordered item(s), upon return of the items we will reimburse the installments that have already been paid and cancel the outstanding payments.
When and where can I choose the number of installments for my payment plan?

Installment payments with Splitit can be chosen as a payment option during the checkout process. Here, you can choose the number of installments in your payment plan and view the monthly payment amounts.