Limited to 250 pieces
901-RS
The 901 RS is a limited edition timepiece made from a 1973 Porsche 911 Carrera RS 2.7.
Limited to 250 pieces
901-RS
The 901 RS is a limited edition timepiece made from a 1973 Porsche 911 Carrera RS 2.7.
Description
Danish Design.
Limited to 250 pieces.
The 901 RS is a limited edition timepiece made from a 1973 Porsche 911 Carrera RS 2.7.
The donor vehicle (VIN 9113600237) boasts an impressive racing pedigree which has been meticulously traced back through its previous owners and their families. It competed in several famous rallies and was owned by a well-known German racing driver back in the 1970s.
The 901-RS features our first ever custom-designed stainless steel bracelet and a one-of-a-kind rounded case with short lugs.
Decked out in striking black and yellow, each dial bears its own unique marks and flaws from the vehicle, which means you'll never see two identical 901-RS watches.
Specifications
Diameter 44,0 mm
Height 13,0 mm
Opening diameter 37,0 mm
Weight 212g
Caliber 9100 Miyota movement w. rotor decoration

Type Mechanical, self-winding

Frequency 28,800 VPH (4.0 hz)

Power reserve +40 hours

Jewels 26
3 Hands / Day / Date / Month / Power Reserve indicator
Skeleton, chrome and yellow hands and indices
Black textured top dial
3 years full warranty
3 ATM, 30 meters
316L Stainless steel

4-Piece case with gungrey PVD coating

Top glass Sapphire Crystal with 3 layers of anti-reflective coating

Exhibition caseback with Mineral Crystal
Handcrafted metal dial recycled from a 1973 Porsche 911 Carrera RS 2.7.
Stainless steel bracelet following the soft lines of the 901 case
Width 24,0 mm
REC Watches and its products are not in any way associated or supported by Porsche AG or any of its affiliates.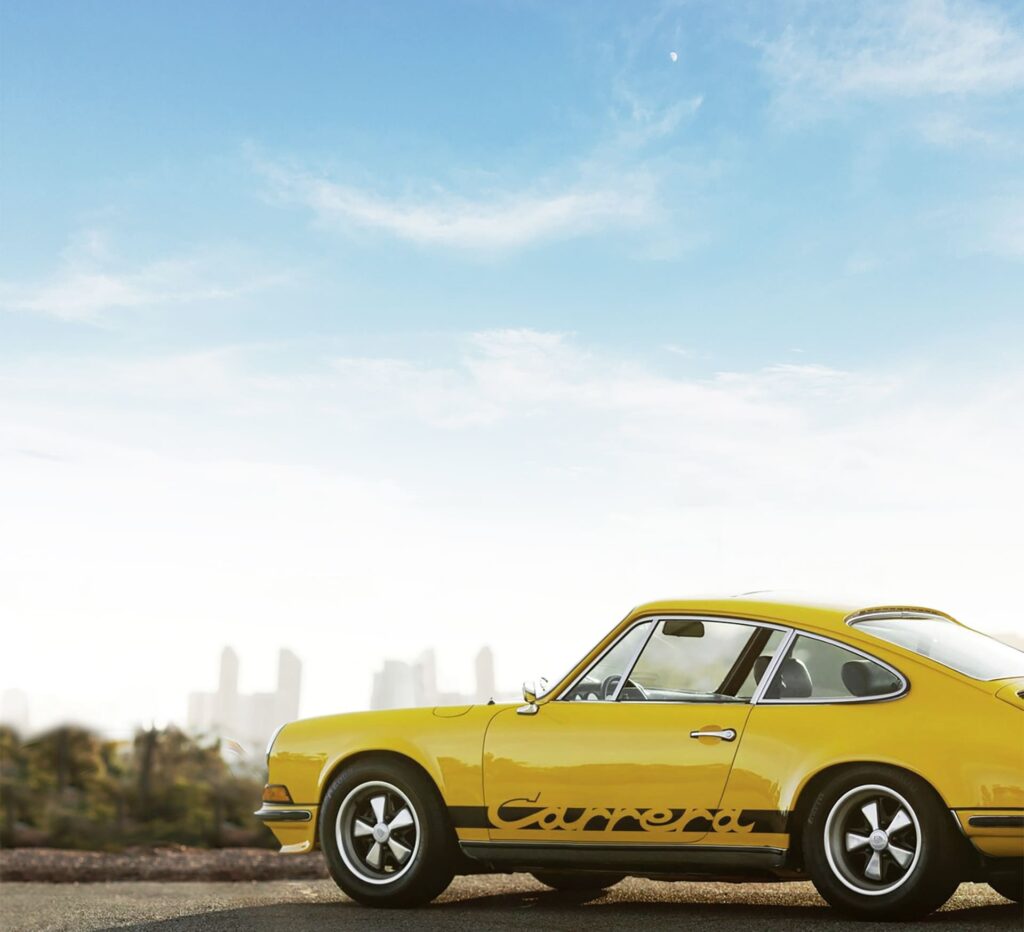 Recovered
A car with an illustrious past
The Porsche 911 Carrera RS 2.7 (Rennsport) was the top first-generation 911 and the very first production street/racing 911 widely available to the public.
Only 1580 were produced, but the car is still considered by many Porschephiles to be the finest 911 ever built. We managed to find parts from one these legendary vehicles to use in the 901-RS Limited Edition timepiece.
But this wasn't just any RS.
The extraordinary story of VIN 9113600237 was gradually uncovered as we began to research its origins. Its first owner was the German rally driver Peter Rumpfkeil who, during his three years with the car, took part in several rallies including the prestigious Monte Carlo Rally in 1976 and 1977, and the Lombard RAC Rally in 1976.
This in itself would normally make for a pretty impressive history, but there was to be a surprise plot twist. On June 26th 2018, we received an email from a German man named Timo Rumpfkeil. By pure coincidence, Timo, son of Peter Rumpfkeil, had discovered that we were working on a limited-edition collection made from the car and was able to provide us with a much more detailed history of this unique vehicle.
Alongside numerous original images of the car, Timo also confirmed that its first owner was none other than the famous German Racing driver, Clemens Schickentanz, who won the European GT Championship and several World Championship rounds in the GT class.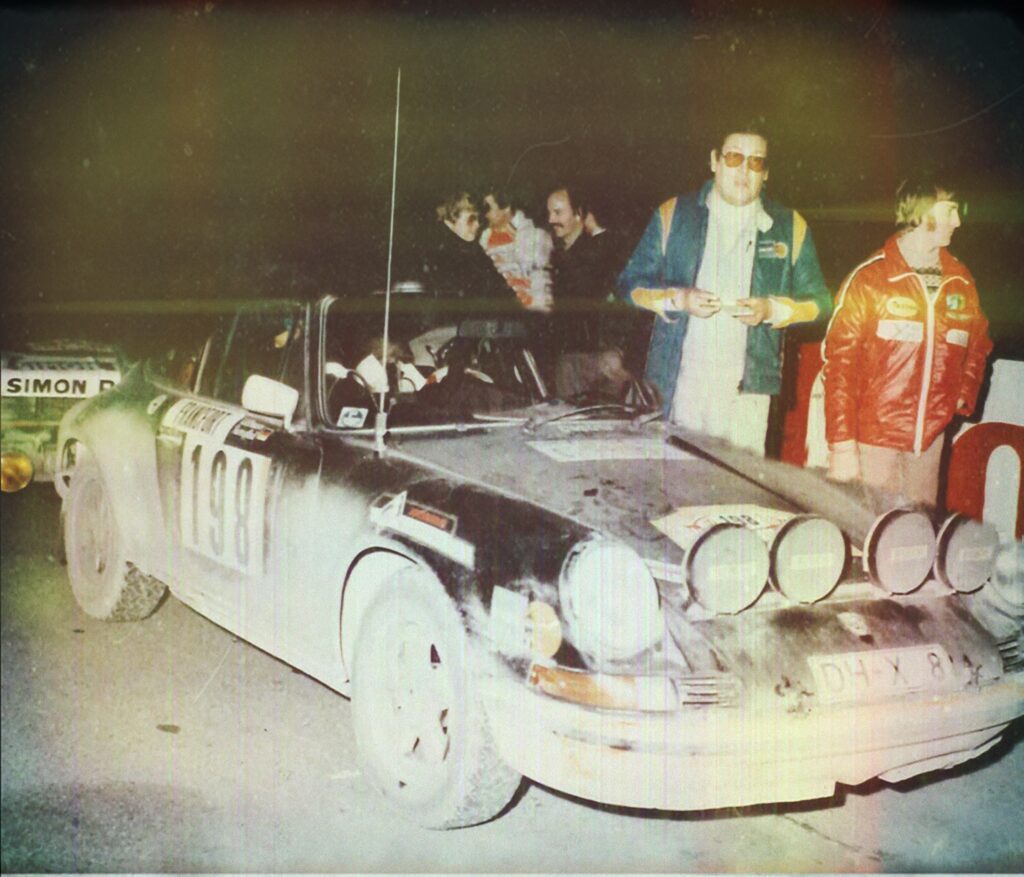 Recycled
Salvaged from a labor of love
In 1982, the battered 911 RS was acquired by Danish car collector Jørgen Schultz. At first, he had no idea just how rare the vehicle was but, as soon as he realized he was dealing with an original Carrera RS, he embarked on a restoration project that would take more than three decades.
When he eventually sold the vehicle in 2015, he was left with several residual components, most of which now feature within the 250 limited-edition 901-RS watches.
Only 250 dials were stamped from the recycled material. We then treated them with a thin coat of darkened transparent lacquer to obtain a completely flat surface and create a vacuum – essential in stopping the oxidation process when using 50-year-old metal.
Reclaimed
Sporty elegance in signature livery
Using our in-depth knowledge of the car's history, we set out to create a model for our 901 Collection that would capture the vehicle's outstanding motorsport pedigree, rarity and design.
Inspired by the 911 RS, our vision for the 901-RS was a timepiece combining sporty features with timeless elegance.
The watch features a stainless steel bracelet designed to complement the gentle curves of the case and, while the dial is the clear focal point, a keen eye will spot numerous other design references built into the 901-RS.
The black-and-yellow color scheme that has been a signature of the car since it left the Stuttgart factory is a striking feature of the 901-RS design. The sandwich dial includes five functions, echoing the original five-dial cluster on the 911, and the watch's hands are exact replicas of the gauge needles.
The month, date and day sit at 3, 6 and 9 o'clock respectively, with black and yellow contrasting backgrounds, while the 40-hour power reserve at 12 o'clock mimics the gas and oil gauge.
You can purchase this item in payment installments with Splitit - with no extra hidden costs. The installments will be spread over your chosen number of months and debited to your credit card.
Splitit installment payments at 0 % interest: How does it work exactly?

Splitit allows you to split the total payment over a maximum of twelve months using your credit card. This service is free, involves no credit checks or applications, and means you can choose to split your payment into monthly installments.

To use this payment method all you need a credit card with a sufficient amount of available credit. Splitit authorizes the total order value—but don't worry, this is not taken in full when you complete the purchase. At the time of shipping, only the first installment will be charged to your credit card. The remaining balance will be held on your credit card until the final payment has been made. However, a payment authorization for the outstanding amount of your purchase will be held during the full payment period.

After each monthly payment, the amount held from your available balance will be reduced to the new remaining balance (the held amount might appear as "pending"). To ensure that the authorization of your credit card is valid for the entire payment period, the authorization will be renewed every 21 days.
Are there any extra fees involved?

No, this is an interest-free payment method with no additional fixed fees, service fees, interest, or hidden fees of any kind.
Which credit cards does Splitit support?

You can pay using Splitit with a Mastercard or Visa card. Debit cards, American Express and pre-paid cards are not accepted.
Do I have to maintain the required available credit amount on my credit card?

Yes, you must maintain a sufficient amount on your credit card for both the monthly payment and for the full outstanding amount of your purchase during the full period of the plan. The authorized amount will be charged only in the event that a monthly payment is declined (the authorization hold might appear as "pending" on your credit card bill).
What happens if I return the product?

If you decide to not keep the ordered item(s), upon return of the items we will reimburse the installments that have already been paid and cancel the outstanding payments.
When and where can I choose the number of installments for my payment plan?

Installment payments with Splitit can be chosen as a payment option during the checkout process. Here, you can choose the number of installments in your payment plan and view the monthly payment amounts.