Limited to 232 pieces
– 72 left in stock
901 GW Chelsea
The 901 GW Chelsea is limited-edition timepiece made in collaboration with Guntherwerks.
Free worldwide shipping. Customs/duties for non-EU orders not included. Read More
36-month sales warranty & 30-day returns from date of delivery. Read More
Secure payments with credit card, Paypal or in monthly installments with Splitit
Need further help with this item? Contact us
Limited to 232 pieces
– 72 left in stock
901 GW
Chelsea
The 901 GW Chelsea is limited-edition timepiece made in collaboration with Guntherwerks.
Free worldwide shipping. Customs/duties for non-EU orders not included. Read More
36-month sales warranty & 30-day returns from date of delivery. Read More
Secure payments with credit card, Paypal or in monthly installments with Splitit
Need further help with this item? Contact us
REC Watches x Guntherwerks
Danish Design.
Swiss Made.
Limited to 232 pieces.
The 901 GW Chelsea is made from the Porsche 993 'Chelsea Grey', in collaboration with Gunther Werks.
California-based Gunther Werks set out to answer a hypothetical question: what if Porsche were to build a 993 GT3RS?
Gunther Werks vehicles have since become synonymous with modern and respectful homage of Porsche 993's iconic heritage – a high-performance, bespoke vehicle paying homage to the naturally aspirated Porsches of a quarter-century ago.
Developed in close collaboration with Gunther Werks founder and CEO Peter Nam, this ultra-limited edition timepiece has been designed to capture the unique blend of rugged beauty and superlative performance that characterizes all Gunther Werks creations.
Each 901 GW Chelsea includes recycled carbon fiber from the Chelsea Grey commission project, Gunther Werks' very first customer commission vehicle.
Specifications
Diameter: 44,0 mm
Height: 14,3 mm
Lug-to-Lug: 46,0 mm
Dial Opening Ø: 35,0 mm
Caliber SW510 B SELLITA movement

Type Cam-actuated Chronograph, self-winding mechanism with ball bearing

Frequency 28,800 VPH (4.0 hz)

Power reserve 62 hours

Accuracy ±15 sec per day

27 Jewels
Swiss-made

3 Hands w. small seconds at 9 o'clock

BGW9 blue superluminous on hands

5 ATM / 50 meters

3-year full warranty
316L Stainless steel

6-piece case 

Top glass Sapphire Crystal with 3 layers of anti-reflective coating

Closed caseback with laser-engraving and deep etching

Forged and recycled carbon fiber lugs
Middle case made from forged carbon mixed with recycled carbon from the roof of Gunther Werks Chelsea Grey vehicle
Black calf leather strap with alcantara inlay and quick-release system
Width (Lugs) 24,0 mm
Width (Buckle) 20,0 mm
Length 125,0/85,0 mm
REC Watches and its products are not in any way associated or supported by Porsche AG or any of its affiliates.
Recovered
When form meets function
The Chelsea Grey is Gunther Werks' very first customer commission project, and thereby represents the very beginning of what today defines the brand.
Based in Southern California, Gunther Werks was founded by Mr. Peter Nam on the principles of passion, performance, and a drive to embed modern technologies into a classic masterpiece.
The Gunther Werks transformation entails a modern interpretation of Porsche's last air-cooled 911, the 993. Regarded by many as the zenith of the 911, the Gunther Werks mission is to retain the driving experience offered by the original car, while evolving its DNA and performance to new heights.
The carbon fiber chassis – as beautiful as it is strong – is painstakingly hand laid, with every seam and pattern aligned with absolute precision. The result is unlike anything you've experienced before. Starting its life as a Carrera C2, the only remaining original components are the 993 tub and doors.
Yet Gunther Werks vehicles are built for more than just showing off to the Porsche-obsessed. With the incomparable Randy Pobst behind the wheel, the Porsche 993 Remastered by Gunther Werks clocked a lap time of 1:30.99 at the Laguna Seca Raceway to become the fastest road-legal air-cooled Porsche ever to grace the legendary track.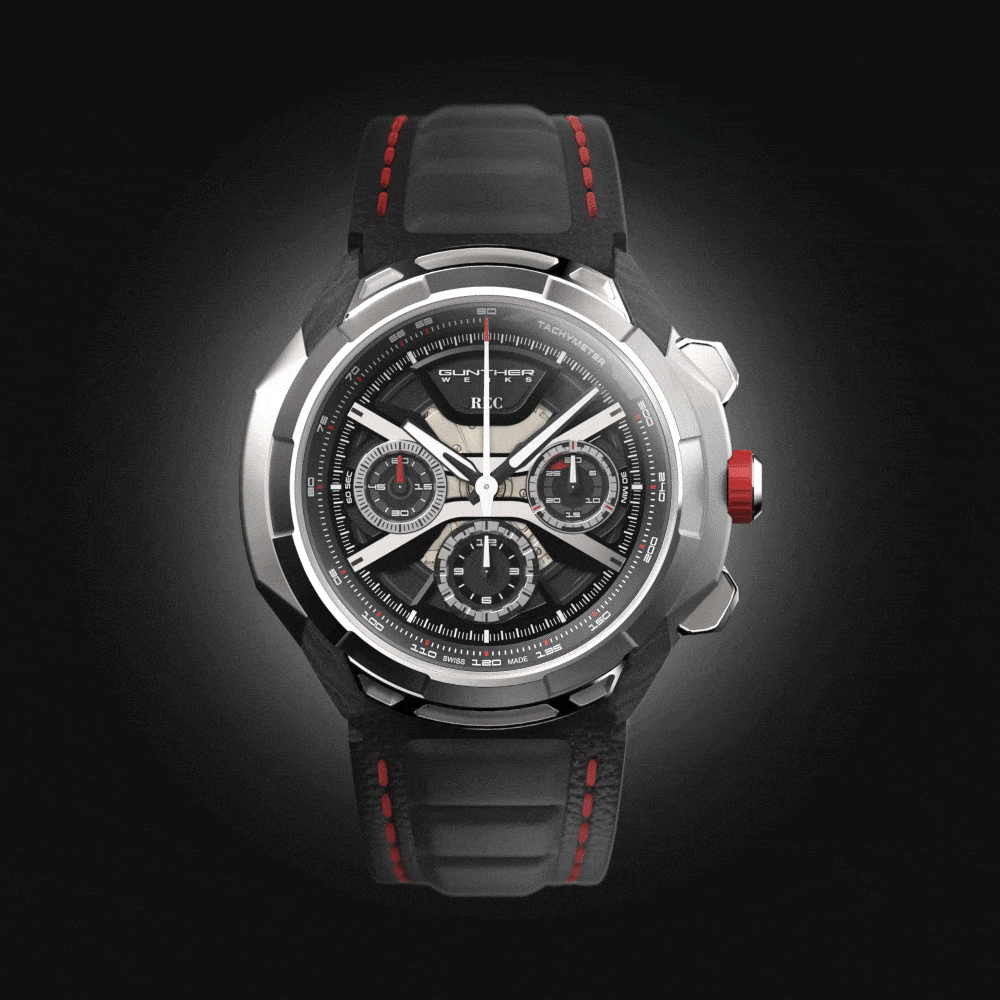 Recycled
Carbon connoisseurs
During the restomod process, Gunther Werks strips each vehicle back to its frame before dressing it in their own carbon fiber bodywork.
Once this is complete, the car is fitted with a 4.0 L naturally aspirated air-cooled engine, hand-built and meticulously tuned by Rothsport Racing to develop over 400 bhp and 330 lb/ft.
Gunther Werks provided us with carbon fiber from the Chelsea Grey build process, which we subsequently granulated and reforged with new carbon fiber to produce the visible middle section of the 901 GW Exoskeleton's case.
The use of recycled components in the case itself, as opposed to the dial, marks a departure from our usual way of working.
Reclaimed
Remastering the 901 Collection
The REC x Gunther Werks project was a two-year undertaking that perfectly illustrates both companies uncompromising approach to quality, details and finishing.
Featuring a certified Swiss-made chronograph, a fully in-house developed 6-piece case structure including recycled carbon fiber and a brand new dial layout in an arresting color scheme, this timepiece was a real labor of love of which we are extremely proud.
The 901 GW Chelsea simultaneously represents an all-new platform for the 901 Collection. Since its introduction in 2017, the 901 Collection has featured Miyota-based movements in 6 different limited edition models. With these all but sold out, our vision for the 901 GW Chelsea project was to take the 901 Collection to the next level.
The 901 GW Chelsea will be a hit with both car and watch enthusiasts alike thanks to its striking looks and sporty chronograph functions, conceived to mirror the esthetics of the vehicle from which it was made. The extra-wide double-calf leather strap features an Alcantara top inlay and is designed to fit comfortably on any wrist.
You can purchase this item in payment installments with Splitit - with no extra hidden costs. The installments will be spread over your chosen number of months and debited to your credit card.
Splitit installment payments at 0 % interest: How does it work exactly?

Splitit allows you to split the total payment over a maximum of twelve months using your credit card. This service is free, involves no credit checks or applications, and means you can choose to split your payment into monthly installments.

To use this payment method all you need a credit card with a sufficient amount of available credit. Splitit authorizes the total order value—but don't worry, this is not taken in full when you complete the purchase. At the time of shipping, only the first installment will be charged to your credit card. The remaining balance will be held on your credit card until the final payment has been made. However, a payment authorization for the outstanding amount of your purchase will be held during the full payment period.

After each monthly payment, the amount held from your available balance will be reduced to the new remaining balance (the held amount might appear as "pending"). To ensure that the authorization of your credit card is valid for the entire payment period, the authorization will be renewed every 21 days.
Are there any extra fees involved?

No, this is an interest-free payment method with no additional fixed fees, service fees, interest, or hidden fees of any kind.
Which credit cards does Splitit support?

You can pay using Splitit with a Mastercard or Visa card. Debit cards, American Express and pre-paid cards are not accepted.
Do I have to maintain the required available credit amount on my credit card?

Yes, you must maintain a sufficient amount on your credit card for both the monthly payment and for the full outstanding amount of your purchase during the full period of the plan. The authorized amount will be charged only in the event that a monthly payment is declined (the authorization hold might appear as "pending" on your credit card bill).
What happens if I return the product?

If you decide to not keep the ordered item(s), upon return of the items we will reimburse the installments that have already been paid and cancel the outstanding payments.
When and where can I choose the number of installments for my payment plan?

Installment payments with Splitit can be chosen as a payment option during the checkout process. Here, you can choose the number of installments in your payment plan and view the monthly payment amounts.