Limited to 262 pieces
– 136 left in stock
TTT ICON1000
1,495.00 USD

1,046.00 USD
The TTT ICON1000 is a limited edition timepiece made in collaboration with ICON1000 Motorsports.
136 left in stock
1,495.00 USD

1,046.00 USD
Limited to 262 pieces
– 136 left in stock
TTT ICON1000
1,495.00 USD

1,046.00 USD
The TTT ICON1000 is a limited edition timepiece made in collaboration with ICON1000 Motorsports.
Description
Danish Design.
Swiss Made.
Limited to 262 pieces.
The TTT ICON1000 is a limited edition timepiece made in collaboration with ICON1000 Motorsports.
ICON 1000 Motorsports founder, creative director and all-round bike afficionado, Kurt Walter, set off to satiate his desire for innovation in drag racing and iconic custom-built bikes with "The Speedmaster."
Boasting a visually arresting retro design, beneath which showcases an array of 21st-century performance upgrades, the bike is a testament to the fusion of tradition with modernity that both REC Watches and ICON 1000 embrace.
Showcasing moto-inspired aesthetic cues that harkens back to the glory days of drag racing, the TTT ICON 1000 is riddled with evocative design references to entice watch and bike enthusiasts alike.
Seamless and subtle, the bike's stator cover has been repurposed and immaculately built into the dial of the TTT ICON 1000.
Featuring an open-worked dial, exhibition case back and custom-plated skeletonized movement, this timepiece flaunts the pedigree associated with Swiss craftmanship. A dual case construction allows the wearer to turn the dial 30 degrees to switch between Ride and Dress modes – for your every need, both in and out of the saddle.
Specifications
Diameter 43,0 mm
Lug-to-Lug 46,50 mm
Height 12,30 mm
Opening diameter 30,0 mm
Weight (w. strap) 95g
Caliber SW200-1 S b SELLITA movement w. rotor decoration

Ruthenium Anthracite plating

Automatic, manual winding

Frequency 28,800 VPH (4.0 hz)

Power reserve 41 hours

Accuracy ± 15sec per day

26 Jewels
Swiss-Made
Skeletonized sandwich dial with 30 degree rotation adjustment between two positions "RIDE" and "DRESS"
Exhibition caseback
5 ATM, 50 meters
3 year full warranty
316L Stainless steel

4-piece case 

Dual case system

Top glass Sapphire Crystal with layers of anti-reflective coating

Exhibition caseback with Mineral Crystal
Third inner dial ring (lowest part) made from reforged 2013 ICON1000 Motorsports custom built Triumph "Speedmaster" stator cover
Black double calf leather strap with ribbed inlay, white loop, stamped black inner lining and curved springbar
Stainless steel wire buckle with polished and sandblast finishing, black PVD coated tongue
Width (lugs) 22,0 mm
Width (buckle) 18,0 mm
Length 125,0/75,0 mm
Recovered
Revving up the idea
Working with Kurt proved to be an enthralling enterprise that presented a fascinating challenge, but also exposed us to the creative ingenuity of the ICON 1000 team. Guided by their maxim, "Go Fast, Look Flash," we set off to channel and ultimately reflect their moto-minded, creative spirit into our TTT ICON 1000 timepiece.
The 2013 Triumph "Speedmaster" custom, was not only fitting for its radical design and performance far beyond its contemporaries of the same era, but for the timelessness of drag racing, and the importance of intricate timekeeping for such an exhilarating sport. An exemplary visual synthesis for the riders in spirit, between the respective worlds of motorcycles and horology.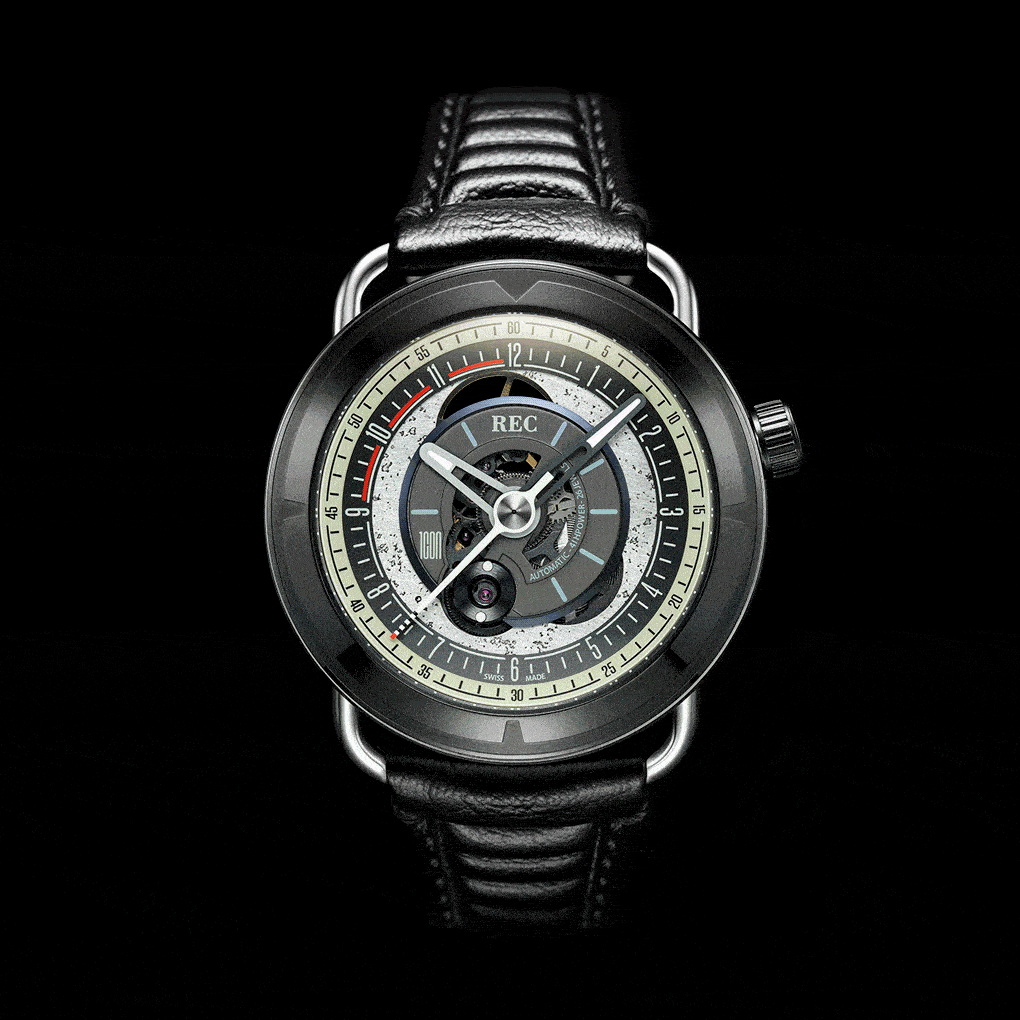 Recycled
The king of the quarter mile
The stator cover of "The Speedmaster" was chosen to bear the iconic story of the backyard quarter mile drag-racing bikes of the '60s.
Immaculately engineered within the skeletonized dial of each of our 262 timepieces, as the material beneath which packages the components of time, we decided it was only apt to use the stator cover to represent such a proverbially rich message.
In preserving the original patina of this artifact, each timepiece is not only distinct in appearance but carries with it, a sliver of this historically significant story.
Reclaimed
Go Fast, Look Flash!
Our endeavour to serve this bike and story due justice, we set out to fuse inspired design references with a high calibre of functionality to produce our timepieces.
As well as the original parts of the "Speedmaster" bike used in the inner dial, the TTT ICON 1000 watch also contains a myriad of aesthetic features attributed to this iconic bike, left for the wearer to discover.
These include the motto, engraved on its periphery, that drive the ICON 1000 team to champion new custom builds and motor-designs, "Go Fast, Look Flash!" The TTT Icon 1000 exhibits a dual case construction that allows the wearer to switch between "Go Fast," the driver mode – where the dial rotates 30 degrees clockwise to center it in the rider's field of vision – and "Look Flash", the dress mode.
Further, the black calfskin leather-quilting used to sew the watch band with a ribbed pattern, mirrors the tail section of the custom seat and the black and cream color scheme, seen in both the watch and the bike, is a nod to the invasion stripes of WW2 allied aircrafts of the Normandy invasion. Protruding from the contrasting vertically brushed outer case, the polished wire lugs are directly inspired by the bike's exhaust pipes.
Mimicking the engine layout of "The Speedmaster," the semi-openworked dial and exhibition case back allows the wearer to admire the layers of sophistication and subtle complexity of the encased skeletonized SW200-1 automatic movement. Developed and customized in collaboration with Sellita, the movement features black ruthenium plating and a custom rotor inspired by the spoked wheels with a sunburst-finished oscillating weight.
You can purchase this item in payment installments with Splitit - with no extra hidden costs. The installments will be spread over your chosen number of months and debited to your credit card.
Splitit installment payments at 0 % interest: How does it work exactly?

Splitit allows you to split the total payment over a maximum of twelve months using your credit card. This service is free, involves no credit checks or applications, and means you can choose to split your payment into monthly installments.

To use this payment method all you need a credit card with a sufficient amount of available credit. Splitit authorizes the total order value—but don't worry, this is not taken in full when you complete the purchase. At the time of shipping, only the first installment will be charged to your credit card. The remaining balance will be held on your credit card until the final payment has been made. However, a payment authorization for the outstanding amount of your purchase will be held during the full payment period.

After each monthly payment, the amount held from your available balance will be reduced to the new remaining balance (the held amount might appear as "pending"). To ensure that the authorization of your credit card is valid for the entire payment period, the authorization will be renewed every 21 days.
Are there any extra fees involved?

No, this is an interest-free payment method with no additional fixed fees, service fees, interest, or hidden fees of any kind.
Which credit cards does Splitit support?

You can pay using Splitit with a Mastercard or Visa card. Debit cards, American Express and pre-paid cards are not accepted.
Do I have to maintain the required available credit amount on my credit card?

Yes, you must maintain a sufficient amount on your credit card for both the monthly payment and for the full outstanding amount of your purchase during the full period of the plan. The authorized amount will be charged only in the event that a monthly payment is declined (the authorization hold might appear as "pending" on your credit card bill).
What happens if I return the product?

If you decide to not keep the ordered item(s), upon return of the items we will reimburse the installments that have already been paid and cancel the outstanding payments.
When and where can I choose the number of installments for my payment plan?

Installment payments with Splitit can be chosen as a payment option during the checkout process. Here, you can choose the number of installments in your payment plan and view the monthly payment amounts.