Limited to 956 pieces – SOLD OUT
The 901-01 is a limited edition timepiece made from salvaged aircooled-era Porsche 911's.
Free worldwide shipping. Customs/duties for non-EU orders not included. Read More
36-month sales warranty & 30-day returns from date of delivery. Read More
Secure payments with credit card, Paypal or in monthly installments with Splitit
Need further help with this item? Contact us
Limited to 956 pieces – SOLD OUT
901-01
The 901-01 is a limited edition timepiece made from salvaged aircooled-era Porsche 911's.
Free worldwide shipping. Customs/duties for non-EU orders not included. Read More
36-month sales warranty & 30-day returns from date of delivery. Read More
Secure payments with credit card, Paypal or in monthly installments with Splitit
Need further help with this item? Contact us
Description
Danish Design.
Limited to 956 pieces.
The 901-01 is a limited edition timepiece made from salvaged aircooled-era Porsche 911's.
Each 901 timepiece features the VIN and production year of the repurposed vehicle on the left side of the case, and comes with its own storycard which includes an in-depth history of the specific car from which your watch is made.
Every dial is unique and bears its own marks and imperfections, which means that no two 901's will ever look exactly identical.
The "901" name traces its origins back to the very beginnings of the Porsche 911. The model was originally introduced in 1964 as the Porsche "901", however Peugeot objected to the use of any three-digit number featuring a "0" in the middle. Porsche's answer was to replace the zero with a "1", and the 911 name was born.
On the wrist, the 901 combines a one-of-a-kind rounded case with short lugs and a flexible double calf leather strap for exceptional comfort.
Specifications
Diameter 44,0 mm
Height 13,0 mm
Opening diameter 37,0 mm
Weight 110g
Caliber 9100 Miyota movement w. rotor decoration

Type Mechanical, self-winding

Frequency 28,800 VPH (4.0 hz)

Power reserve +40 hours

Jewels 26
3 Hands / Day / Date / Month / Power Reserve indicator

Skeleton, chrome and red printed hands

Superluminova on hands & indices

Grey textured top dial

3 ATM, 30 meters

3-year full warranty
316L Stainless steel

4-Piece case with gungrey PVD coating

Top glass Sapphire Crystal with 3 layers of anti-reflective coating

Exhibition caseback with Mineral Crystal
Handcrafted metal dial made from recycled Porsche 911 chassis parts.
Double black calf leather strap with protective inner lining, quick-release system and Alcantara pattern.
Strap Width 24,0 mm
REC Watches and its products are not in any way associated or supported by Porsche AG or any of its affiliates.
Recovered
When evolution beats revolution
The 911 itself began life as a series of sketches by Ferdinand "Butzi" Porsche, son of Ferdinand "Ferry" Porsche, in 1959.
The Porsche 911 was developed as a more spacious, powerful and comfortable replacement for the Porsche 356, the company's first consumer car.
Almost as soon as it went on sale in September 1964 (as a 1965 model), the 911 established itself as an icon of '60s cool. The '70s saw it lauded for its performance and the '80s for its sophistication, while athleticism and power became its defining attributes in the '90s.
Today, it stands as the very epitome of German sports car manufacturing.
The 911 is one of the few modern vehicles whose exterior design has evolved very gradually, and the original 1964 curves are still visible in each successive vehicle generation. In an industry forced to constantly re-invent itself over time, this is not only unique but also a clear sign of just how true the 911 has stayed its roots.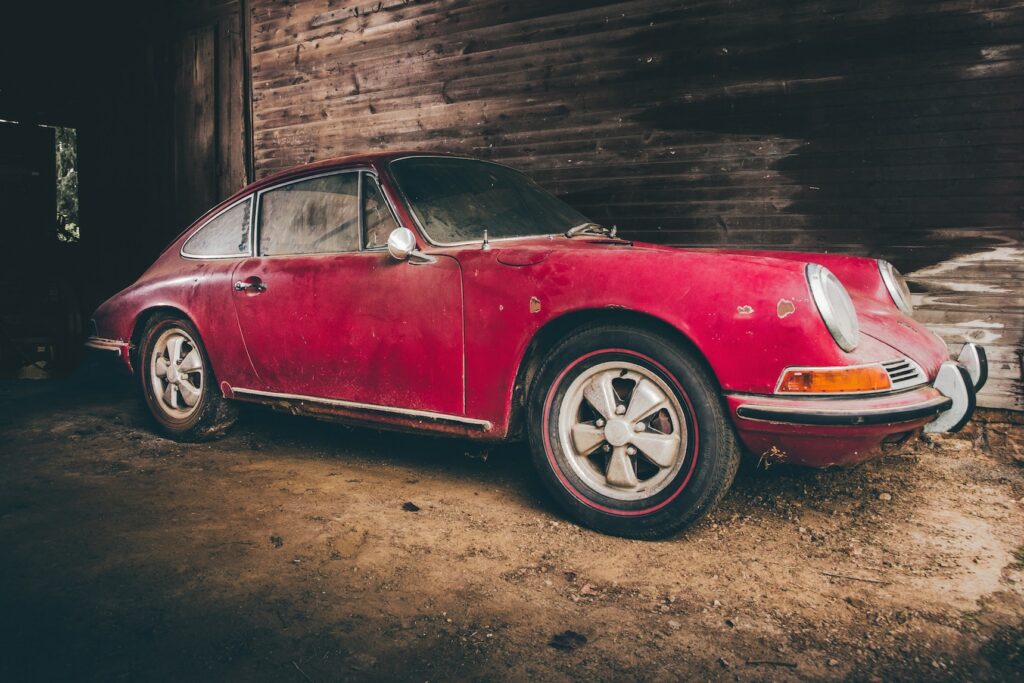 Recycled
Less processing, more character
It is estimated that over 70 percent of the one million-plus Porsche 911s produced are still on the road – a seriously impressive statistic in itself.
Our mission with the 901 Collection has been to hunt down 911s that are no longer road-worthy and recycle their components for use in our timepieces. We aim to recycle the exterior parts and integrate them in the dial with minimal processing, to preserve the unique patina and rugged character of the 901 Collection.
Once we've taken delivery of the parts, we start stamping them out into watch dials. The number of dials we can get from each car comes down to the quantity and condition of available parts, which guarantees a unique patina on each dial.
We scrape off any residual paint or primer to expose the bare metal underneath, before carefully applying a thin coat of transparent lacquer to obtain a completely flat surface and create a vacuum – crucial in halting the oxidation process.
We then conduct in-depth research to gather as much history and information on the previous owners as we can, often armed only with the Vehicle Identification Number (VIN). Simply scan the NFC storycard included in your 901 gift box to discover the full story of the car that became your watch.
Reclaimed
When details matter most
As well as featuring a fragment of a 911, the 901 captures the true spirit of this iconic sports car.
And while the recycled dial is the clear centerpiece, numerous other references spanning generations of the vehicle have been carefully integrated in the design of the 901.
The rounded case mirrors the 911's distinctive shape, complete with the characteristic rear air intake set between the lugs. The exhibition case-back that sits over the sturdy Miyota cal. 9100 features the iconic Fuchs hubcap design, which reveals a rotor decorated to resemble a brake disc.
Opposite the semi-submerged screw-in crown recalling the Porsche's horn button, a small plaque bears the VIN and production year of the actual 911 from which your watch is made. The 901 features a sandwich dial with five functions to match the original five-dial cluster on the 911, with the watch's hands designed as replica gauge needles.
At 12 o'clock, the 40-hour power reserve mimics the gas and oil gauge on the earliest 911s, in the form of a rotating disc that changes color as the watch is wound. The month, date and day sit at 3, 6 and 9 o'clock respectively, with the month and day complications constructed as transparent discs with contrasting backgrounds and windows.
You can purchase this item in payment installments with Splitit - with no extra hidden costs. The installments will be spread over your chosen number of months and debited to your credit card.
Splitit installment payments at 0 % interest: How does it work exactly?

Splitit allows you to split the total payment over a maximum of twelve months using your credit card. This service is free, involves no credit checks or applications, and means you can choose to split your payment into monthly installments.

To use this payment method all you need a credit card with a sufficient amount of available credit. Splitit authorizes the total order value—but don't worry, this is not taken in full when you complete the purchase. At the time of shipping, only the first installment will be charged to your credit card. The remaining balance will be held on your credit card until the final payment has been made. However, a payment authorization for the outstanding amount of your purchase will be held during the full payment period.

After each monthly payment, the amount held from your available balance will be reduced to the new remaining balance (the held amount might appear as "pending"). To ensure that the authorization of your credit card is valid for the entire payment period, the authorization will be renewed every 21 days.
Are there any extra fees involved?

No, this is an interest-free payment method with no additional fixed fees, service fees, interest, or hidden fees of any kind.
Which credit cards does Splitit support?

You can pay using Splitit with a Mastercard or Visa card. Debit cards, American Express and pre-paid cards are not accepted.
Do I have to maintain the required available credit amount on my credit card?

Yes, you must maintain a sufficient amount on your credit card for both the monthly payment and for the full outstanding amount of your purchase during the full period of the plan. The authorized amount will be charged only in the event that a monthly payment is declined (the authorization hold might appear as "pending" on your credit card bill).
What happens if I return the product?

If you decide to not keep the ordered item(s), upon return of the items we will reimburse the installments that have already been paid and cancel the outstanding payments.
When and where can I choose the number of installments for my payment plan?

Installment payments with Splitit can be chosen as a payment option during the checkout process. Here, you can choose the number of installments in your payment plan and view the monthly payment amounts.